Cusco to Rainbow Mountain
While staying in Cusco it's quite easy to organize a Day Tour to Rainbow Mountain… Well, you basically cannot miss it, there must be something interesting out there to check out given the number of signs that mention this place all over Cusco.  At first, we were not this interesting by doing it. But!
Quite surprisingly, it was not a tour we were absolutely interested in. We had read that there were a lot of tourists, that the hike was hard and long, that the road to get there was not maintained and dangerous. We were also taught that tours are done with big tour agencies, with up to 40 people and that the time you spend at the rainbow mountain was really limited.  In brief, everything was pushing us far away from this spot.
Details
But, when in Cusco, we got advised by the tour operators of several aspects which could change our decision visiting on  2018
-Another road was built, way better and safe than the previous one.
-The hike is no longer this long since it only requires 1 hour-walk to get to the summit.
-The price is good
So, it has positively changed a lot in a couple of years. 
Well, apparently there would be still lots of tourists, but this was quite expected as it is sold as one of the best Peruvian attractions. So, we would be willing to give it a try. Not so satisfied with having to resort to big groups of tourists but that how it is.
The right Agency…
We found Wild Watch Peru while volunteering at their agency promoting the Manu National Park and helping out at their lodge. We decided to ask them to organize a trip to Rainbow Mountain and they accepted happily. It was a kind of travel test to make sure to organize it the best way possible. And they absolutely nailed it!
On the previous, we packed our bag (sunscreen, waterproof jacket and some coca leaves, water, snacks, warm gloves, sharp and woolen hats) and went to bed quite early.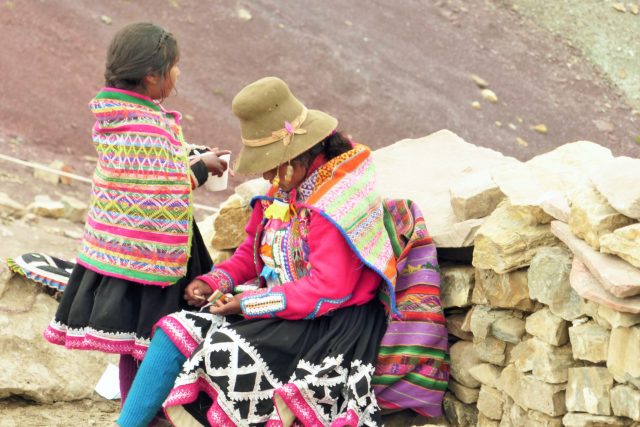 It was Friday, 28th of December 2018 and we left quite early (6 am) from Cusco with Hebert our guide, Paulina his wife, his 4-years old kid and a friend. It already seemed like a family road trip. We were stopping at some points on the way to get snacks, to take pictures of the landscapes, to go closer to the alpacas and to better see the traditional clothes that people wear in the charming villages along the road. We reached the parking the hike starts after a 3:30/4 hours' drive from Cusco.
At the parking as during the hike, you will find everything you need if you have forgotten snacks or drinks. Some 'Servicios Higienicos' are also located near the cars. The parking is also the first horse terminal. Horses which can lead you 50 meters away from the top. If you feel tired on the way, there are various other places where you can hire a horse if you later decide to go horse-riding instead of hiking.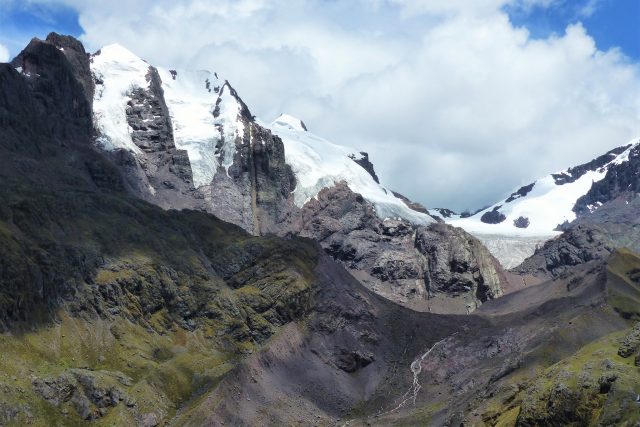 We started the hike.
The good point is that from the very beginning you can see the top of the rainbow mountain and thus decide on the pace to walk you adopt. As abovementioned, we did this hike with a 4-years old kid as well as a 12 years old boy. Both the two of them arrived safely and gladly at the top. It took us less than an hour at a moderate pace and with many stops to reach Winicunca, the mirador from which you see the rainbow mountains. As we parked the car at 9 am, we saw all the big groups of tourists walking back (note: there is only one path) to their bus.  The path conditions are correct, a bit muddy sometimes but more than doable with basic hiking shoes. As already said, the hike is easy, and you steadily climb up to the mountain top (5200meters high).
Nothing to see with what it used to be a year ago. We crossed many people on the way back and we did not see anyone suffering from the altitude. In case, you are subject to altitude sickness, you can always buy some pills or Coca Leaf in Cusco. You are also better off starting with other hikes (Machu Picchu or Humantay) and stay in Cusco for a few days if you want to avoid feeling bad.
Reaching the top
There was almost no-one anymore since all groups had left. We could count on fingers the number of people present at the top when we arrived. Although there were more than a hundred people when we started walking. I had read that the mountain looks very pale and cloudy. Well, we were there on a cloudy day and we stand up in front of the mountain range for 1 hour just staring at their colors. The panorama is breath-taking. It is a merging of Lagunas, mountains pastures, and glaciers. It looks like a color palette from above and was by far, the most surprising and scenic landscapes we had seen of our South American trip!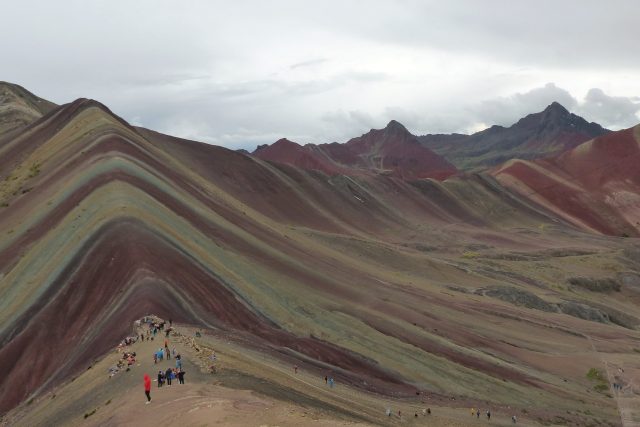 On top, there are very small booths where you can buy coffee, mate, and snacks. We stayed for one hour at the top and started returning to the car.
On the way back, although the hike is less challenging, you can also hire horses if you feel like. It took us less than an hour to reach the car.
We were very fortunate since, on the way, our guide Luis is also an experienced birding guide in Peru who spotted two interesting birds on the sides, the Andean Goose and some Bright-rumped Yellow finches. Having clear explanations about the culture, the local lifestyle, the wildlife by an official nature guide is another advantage of resorting to this family-based agency.
On the way back, we could not help ourselves from watching all the pictures of this incredible journey.
What to consider for a trip to Rainbow Mountain from Cusco
If you do not want: big groups size, too-short stops or commissioned stops in very touristic places, a 4-am departure, very limited time on the spot, people hurrying you to walk, pictures with other 100 people around, quick meals…. contact to Wild Watch Peru.