Manu National Park Prices 2023
Uncover Amazingly Affordable tour rates with our Cost Calculator!
Are you looking for an unforgettable experience in Manu National Park? If so, you're in luck! With our cost calculator, you can easily uncover amazingly affordable tour rates for one of the most incredible rainforest destinations in Peru. So, if you are planning to travel and still looking for the best deals for a group of friends or family, explore this tool to calculate the prices of tours in 2023, and get more discounts than expected.
Above all, traveling in the Amazon is an incredibly rewarding experience. Not only will you get to explore one of the world's most biodiverse regions and fascinating ecosystems, but you'll also have the chance to explore remoteness, experience local cultures, and learn about the Amazon's rich history.
Keep reading to learn more about the benefits of planning a tour to Manu, the factors that affect the rates, and tips for maximizing your budget.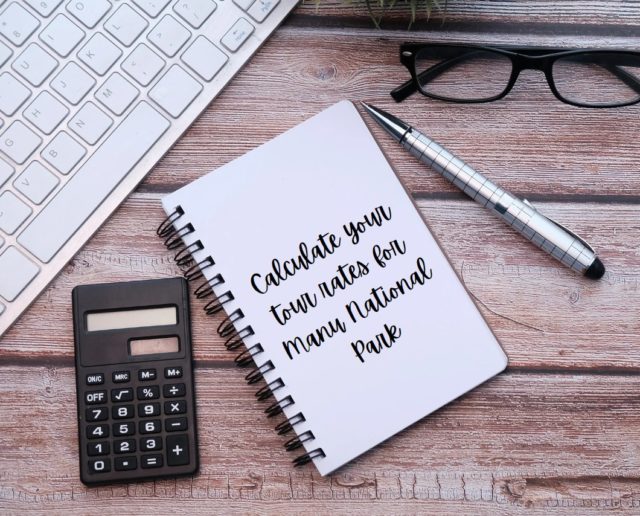 Factors Affecting Manu National Park Tour Prices!
The factors that affect Manu National Park tour prices include the length of the tour, and the type of activities included. The length of the tour will determine how much time customers have to explore the rainforest and the tour interest refers to the type of activities involved that also affect the cost, as more specialized activities (Birding, Photography) require additional fees. The size of the group influences significantly the cost, as larger groups may be eligible for discounts or price reductions. Finally, the season can also affect the global cost, there are also a few other factors to consider to manu national park tours
1. The Length of the Tour
The length of the tour is also a major factor in pricing. Generally speaking, the longer the tour, the more expensive it will be. It's also important to consider which section of the Manu National Park, you would be more interested to go. Tours leading into the Reserved Zone are generally way more expensive than tours going along the Cultural Zone both have pros and cons. In fact, the following tour information outlines the differences, on the other hand, you can also plan a productive tour into the Cultural Zone, check out this article.
2. The type of Tour
Another obvious reason is the type of tour you choose. Private guided tours are usually more expensive than fixed departure options, so it's important to consider your budget and preferences when selecting a tour. Our tour rates are set on a group and fixed departures cost, exploring our tour calculator you will find a Switch Toggle (off by default), switching ON it automatically will add the cost of the Private Tour.

How to save money?
Considerations while booking a tour to Manu.
Traveling to the Rainforest in Peru doesn't have to be expensive.  At the stage of prebooking and planning, you can consider a few aspects, there are several ways to save money before booking a tour of Manu National Park.
One of the best ways to save money is booking in larger groups on a single booking.  You can also save some money by booking in advance, the payment method is another way to reduce global costs and finally the season of the year.
1. The Number of Participants
The price reduction for groups of travelers is based on economies of scale. When a group of travelers books a tour together, the tour operator can spread the cost of providing the tour over more people, allowing them to offer a lower cost per person, the price reduction for groups of travelers is a win–win for both the tour operator and the travelers. The tour operator can maximize their profits, while the travelers can enjoy a lower cost.
2. Payment Method.
Cash payment is often the most convenient and cost-effective way to complete the balance so this gives you the choice to pay upon arrival and gives some flexibility in case of any modification (review privacy policies and terms). By paying in cash, you can avoid the extra fees associated with credit cards and other payment methods, this helps you save money by avoiding the extra taxes and charges imposed on certain credit card purchases.
While processing a reservation a small percentage it's requested by the organizer to guarantee spaces ($ 100 for the whole group), this transaction has to be completed using an online payment platform anyway. 
3.

Book

ing

a

Tour

in

Advance
Early booking discounts are another way to save some money when planning a tour of Manu National Park. Wild Watch Peru offers discounts for early bookings, reservations should be completed a minimum of 3 months (90 days before the date of travel) this discount percentage is variable depending on how large the group would be, you will find a Tab in our cost calculator. 
4. Season of the Year
Traveling during peak season (May – September) has the opposite effect on Manu National Park Tours. During peak season, obviously, a greater demand happens, and the tour operators usually offer a last-minute discount to fill up spaces (Manu National Park develops small-scale tourism) usually groups do not reach more than 8  participants on each fixed departure, the number is based on the market demand rather than regulations from the park administration.
During the low season, (November to April) there is not much demand, which is also the rainy season so tours have to be arranged for a minimum of travelers  (2 people) which has to cover all the logistic expenses without any chance to decline or negotiate the rates. *Last-minute discounts are subject to availability and not fixed amounts, they cannot be an option in our tour calculator but feel free to ask once you looking for a tour on short notice.
FAQS
Are there discounts for families or groups visiting Manu National Park?
Yes, there are discounts for families or groups visiting Manu National Park. Depending on the size of the group and the length of their stay, different discounts are available. The larger the group is, the prices decline, see our cost calculator 2023
What is the cheapest tour to Manu National Park?
The price range starts from $ 250.00 per person for a regular 2 days tour (all included from Cusco) booking on fixed departures, travelers get special discounts so there are a few other factors that involve the price reductions (sizes of the group, season, travel length)
What are the payment options for Manu National Park ?
The most common and reliable payment option is a credit card (online and POS) however if paying in cash (USD and Peru Soles) travelers can get some discounts of around 4.5%. Wild Watch Peru tours include credit card commissions, fees
What are the rates for Manu National Park on 2023?
Manu Jungle Explorer 2 Days $ 320.00 per person Manu Short Trip 3 days $ 350.00 per person Manu Wild Experience 4 days $ 450.00 per person Peru Rainforest Explorer 5 days $ 880.00 per person Manu Reserved Zone Express 6 days $ 850.00 per person
Manu Nature & Wildlife Escape 7 days $ 1,100.00 per person Exploring Manu Wilderness 8 days $ 1,250.00 per person *Rates are discounted up %20 for joining on fixed departures along the season
Tour Cost Calculator
This tool will provide to customers with an accurate estimate of the total cost. Additionally, it can also be used to apply discounts and price reductions, with this tool, customers can easily compare different packages and find the best option for their budget. There are 2 calculators the first one (left) is for short tours (2,3 & 4 days). The second calculator is for longer tours that go along the reserved zone (5, 6, 7 & 8 days)
Check out rates for Manu Short Tours; 2 , 3 , 4 Days

Manu Cultural Zone

Cost Calculator
The bigger groups is the rates gets lower!
1
For solo travelers it been added the single supplement cost
Privately Guided Experience !
Booking in Advance (90 days)
Longer Period Tours; 5, 6, 7 & 8 Days

Manu Reserved Zone

Cost Calculator
Minimun 2 traveler for booking tours into the Manu Reserved
2
Minimun 2 traveler for Manu Reserved Zone Tours
Privately Guided Experience !
Booking in Advance (90 days)