6 reasons for traveling to Manu National Park – Post Pandemia
Traveling the world is exciting, it's exhilarating, and always new – it gives us so many incredible experiences and opportunities and really does broaden our horizons when it comes to people, places, and cultures. It's true that more people are being vaccinated every day and travel is already top of mind. Suddenly, the whole world feels within reach again, even if travel restrictions haven't quite been lifted yet.
Most travel experts expect travel to re-open incrementally rather than all at once. We'll see some countries loosening restrictions early on and others late to follow. At your destination, attractions and local protocols will change in phases, too. Remember, even if you're vaccinated, not everyone else will be when you arrive at your destination.
"Stay close if you're looking for the best place to travel after COVID-19" was a popular phrase and probably one of the most recommended actions to be taken what is the tendency now? most experts from the tourism industry say that people would travel more than expected but somehow the travel style and preferences  will change as mentioned in this article
Nowadays flights and returning to normal in Peru and in most countries is not hard to believe that Machupicchu, the archeological site is receiving between 1200 to 1000 visitors per day, according to the statics from the Peruvian government, Cusco city looks many more visited and most tour agencies opening doors.
Over this week another interesting piece of news hit the tourism environment in the south of Peru, the fact that Manu National Park and Tambopata National Reserve had received the international Safe Travels seal, which makes it more promising to visit these two protected areas that hold incredible wildlife records.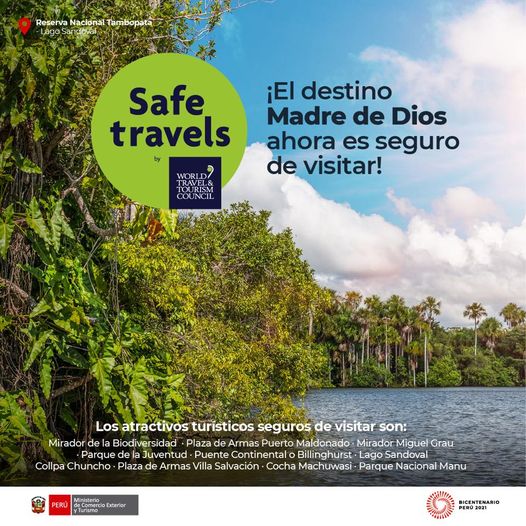 Why Manu National Park?
Selecting the right rainforest destination in Peru to visit after the pandemic can be a challenge. Every destination is unique and has a lot to offer. Manu National Park  Probably is a place that probably does not need much introduction due to its reputation for holding many species of animals. In fact landing on the topic, it's a priority to evaluate the health factor too and what conditions are currently featured on such destinations, I personally could spot the following factors that hope can help you to decide where to travel.
1:  Prices.
The pandemic had impacted seriously the tourism business in Manu, this destination relies on International travelers, and most visitors come from Europe, Asia, and North America, as soon as some restrictions were lifted in the second quarter of 2021, tour agencies and operators based in Cusco city had redesigned schedules as well as rates to be more competitive and capture to the local audience, (Peruvian travelers) the rates are lower in contrast to what was offered before the pandemia times.
This appears to be the right time to take advantage of these promotions obviously these rates are even more convenient to foreigners having the advantage of the updated dollar rate (it's been increasing fastly its exchange rate)
2: Away from Crowds
Manu National Park is a well-known destination of small-scale tourism, Manu is one of the most remote and extensive Amazonian parks (2 million hectares)  on 2019 was the peak around  3,000 tourists (tourists registered at Limonal ranger station) visited the park in the whole year, in contrast, Machupicchu had received around 3000 visitors just in one day before the pandemia times.
During the pandemic in 2020, no tour groups were registered officially into the reserved zone, and at least no tourists were hosted at the casa Matsiguenka Lodge due to local regulations.
Traveling along the Manu National Park means that you will be absolutely in isolation, just surrounded by nature, on top of that, most of the natural attractions of the Park  (oxbow lakes, macaw clay lick, trails,  campsites) are far from each other, that is a journey traversing miles of the rainforest, mountains without encountering human settlements.
3: More Privacy
As mentioned above the Park is small-scale oriented, with single and medium-size units of transportation used for overground and aquatic transportation respectively, ground transportation is crafted in minivans (max 8 people) most of the time these vehicles depart with the minimum number of people.
Once the tours depart from Cusco it does not pick up other participants on the route, the number of travelers will be kept from the beginning to the end. The crew employed in the journey is kept as minimum as possible, the tours are accompanied by a guide, driver, and occasionally chef onboard
Lodges are small don't expect to overnight at hotels that hold thousands of guests, you barely encounter other travelers or once you get to any shared lodge, attraction, paths, etc.
Tours to Manu National Park are  off the beaten track, not in urban localities most time is spent in nature
4: More Flexibility
Protocols are universal, and masks and face shields are still a requirement to wear on urban sites, and cities in Peru, however as long as you are traveling and moving away from the cities, you can have a break from that!
As matter of fact, all tourists arriving in Peru are vaccinated as requested, the vaccination rate in Peru is moving forward, currently, Peruvians at their 50 years old are vaccinated and increasingly covering much younger inhabitants.
Traveling in the same group of people, and exploring remote areas and just surrounded by forest,  the use of certain items of protection is not rigid like when you walk in the cities, there is a degree of flexibility that can be set by your guide, sounds more feasible that you can explore the forest without wearing these items all the time, however, to carry the protections items for covid19 must be taken for the trip.
5: The Conservation of the rainforest
If you have ever dreamed to help rainforest conservation this appears the right time. Most of the local tourism entrepreneurship relies on tourism such as;  ecolodges, natural reserves, gardens, and trails, these projects are adjacent to the Manu National Park, and they play an important role in protecting the rainforest in the buffer zone, there is a high vulnerability of the natural resources at his locations.
Nature tourism is linked directly to conservation, if not existing ecotourism in the region even in the short term, would produce a reverse effect, so the land used for ecotourism practices would be released,  used for any other alternative activities,  widely developed in the area such as;  logging, hunting, and agriculture, these activities were more exponential during the lockdown due to the lack of patrolling.
The only activity compatible with conservation is ecotourism while visiting the Manu National Park the benefits are straight for the local's business and conservation of the rainforest of the buffer zone in Manu.
6: A Digital Detox Journey
In an era of constant technological acceleration, innovation, and additionally of the coronavirus lockdown, an overabundance of screen time, information overload, tech-driven anxiety, social media everything, internet addiction, a constant sense of FOMO, selfies, and being endlessly tethered and always available, Digital Detox aims to inspire, educate and empower our collective generation to create more mindful, meaningful, and balanced lives, both online and off. A journey to the middle of nowhere can be productive in that way
Conclusions
If you are looking for the ideal place that can connect you with nature again, have real freedom, explore the rainforest,  observe exotic wildlife, and help the conservation of the rainforest, consider visiting Manu National Park in Peru.