POSITIVELY TRANSFORMING
Say Yes to New Adventures
Our Manu Wild Experience 4 day tour will take you off the beaten-path and on the trail of one of the richest wildlife reserves. With spectacular views of waterfalls, caves, majestic rain-forests. Not to mention our deliciously authentic Peruvian cuisine. If you are interested in a private tour, we also offer great private group rates, all our guides are fluent in English and have no problem making sure all your needs are attended.
Next departures on August 8 , 11
Destination
Manu National Park
Information

Tour Plan

Location

Gallery

Reviews

Additional Info

Similar Tours
What's included
Departure Location
Cusco City - Transfer from Hotels , Airport , Bus Station
Return Location
Cusco City - Transfer from Hotels , Airport , Bus Station
Tour Start Date & Time
11 August, 2022 6:00 am
View other Times
15 August, 2022 6:00 am

20 August, 2022 6:00 am

1 September, 2022 6:00 am

10 September, 2022 6:00 am

14 September, 2022 6:00 am

20 October, 2022 6:00 am

11 December, 2022 6:00 am
Price includes
Accommodation on double bed room

Activities Listed in the Program

Alcoholic Drinks

All meals included (vegetarian, vegan mentioned in advance)

Duffel Bags for Travelling Light

Entrance Fees to the Guadalupe Ecological Reserve

Free Storage Room in Cusco

Nights at Guadalupe Lodge

Professionally Local Guide

Rubber Boots

Snacks (fresh fruits, cookies, chocolate)

Unlimited Purified Water
Price does not include
Alcoholic Drinks

First day breakfast

Tips to the Staff

Wildlife Rescued Centre Ticket
Additional Prices
AVAILABLE ON 2022: Discount for groups departure
4 Day Amazon Tour Peru from Cusco.
4-day Amazon tour, Peru begins in Cusco with a journey through the high Andes and down from elfin forests to the lowlands. Stretching from 12,000-foot, high montane grasslands and elfin forests down through mid-elevation cloud forests to extensive  Rainforest. Also, here you can track the evidence of footprints left by large ground mammals such as Tapirs, Jaguars, peccaries, and capibaras at elevations below 1700 ft or 500 meters.
A complete transect route, all the way from the high Andes to the Amazonian rainforest passing by different habitats, and elevations. This cloud forest envelope many clouds, mist, and humidity.
Therefore this 4 Day Amazon tour is one of the best ways to travel when in Peru. A naturally cultural experience, immersing yourself in the jungle. The range of activities we offer will take you on a journey that few have ventured. Hence why this is a must on your travel list.
Don't wait around, book our 4-day Amazon tour, Peru, that will take you off the beaten path and on the trail of one of the richest wildlife reserves. With spectacular views of waterfalls, caves, and majestic rainforests. Also, not forget our deliciously authentic Peruvian cuisine.  The lodging at Guadalupe Lodge invites you to immerse yourself in the wilderness!
Overland Transportation from Cusco to Manu
Manu Park in the Peruvian Amazon rainforest has regular access by overland transportation from Cusco city. For our guided tours we use comfortable vehicles such as the Mercedez Sprinter or Toyota KD minivans for groups that exceed 3 participants. In effect, the Toyota Fortuner  SUV 4×4 will be arranged for couples or small groups of 3 participants.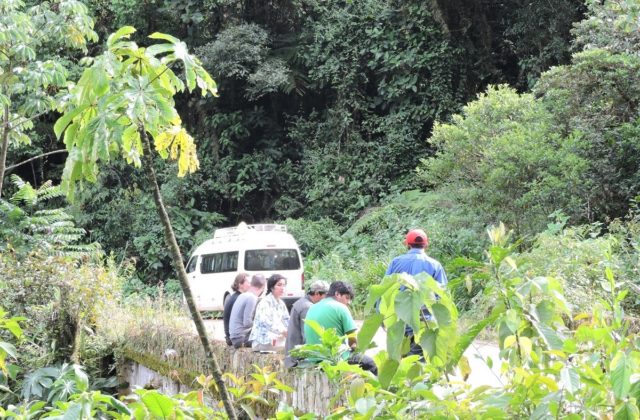 The experience traversing the Andes across the Amazon Rainforest
This Journey offers incredible views of cascades, waterfalls, and stunning surrounding landscapes. As a result encountering some of the best views, and diverse environments. Densely populated, the cloud forest is home to epiphytes, orchids, bromeliads, lichens, and more. The evidence of plant diversity here is so grand at these elevations.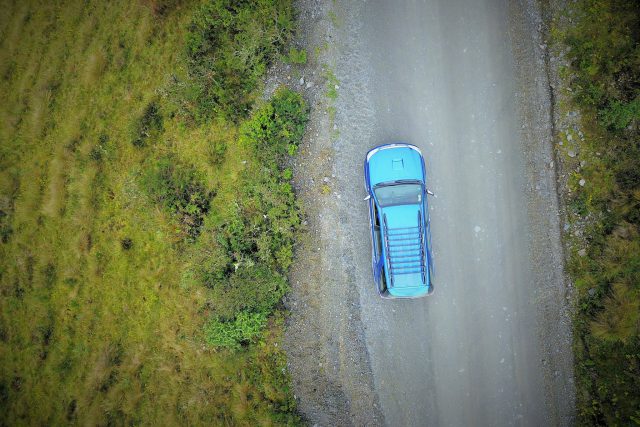 The Wildlife in the Cloud Forest.
The 4 day Amazon trip offers a great chance to observe the Wooly monkeys that hang about the cloud forest. Looking up you will see, and definitely hear the colorful birds; Quetzal, Mountain Toucans, and the unmistakable Cock of the Rock. These brightly-colored birds are seen at certain spots, but not to worry. For the reason that our guides and drivers know these very well.
River  Transportation
Certainly a memorable experience, we provide motorized canoe boats to travel down the river with experienced native drivers, (canoe type of 14 meters long – 2 meters wide). The boat has a roof to prevent any sudden rain and sunshine. Life jackets are provided, and medical first aid kits.
We embark from the Atalaya Port & Town, to travel downstream for somewhat 2 hours. Reaching the vicinity of Machuwasy Lagoon at elevations below 500 meters above sea level.
The activities.
Caves at Guadalupe Lodge.
We offer exclusive excursions to the caves/canyons at Guadalupe Lodge. The caves are only 10 minute walk from Lodge. Originated by creek erosion, the canyon is a natural formation. This area has cut into the mountain, and as a result has created an environment that harbors species that were evolved in the darkness: bats, tailless whip scorpions.  Also, taking a walk during the night time would be an especially amazing opportunity to look for the: dwarf caimans and the Water Opossum, which is the only species of aquatic opossum in the Neotropical. If you are afraid of being too close to these creatures at night time, this activity is optional. Advisable to wear water boots.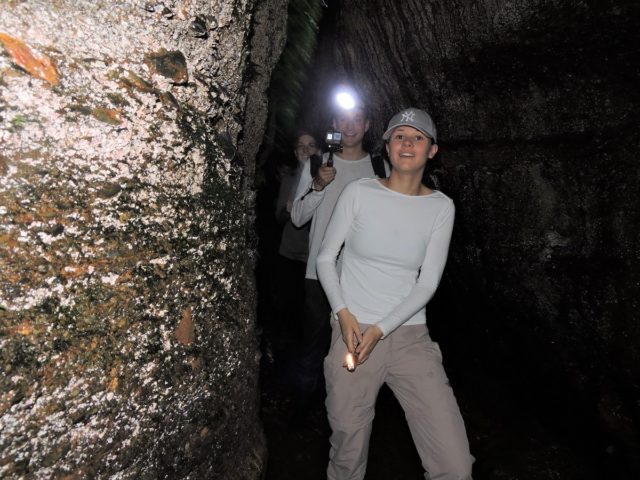 The Boat Trip – Full Day
Our Tour offers even more, including a most noteworthy day of boat navigation along the Madre de Dios river. A view of evergreen rainforest adorned by colorful trees blooms on the slopes of the mountains or the foothill forests.
The Boat trip begins from the Atalaya River Port. A motorized canoe alike embarkation (12 meters long and 2 meters wide with a roof to prevent any sudden rain or sunshine).
These types of boats are the most ideal for fast-flowing rivers. Even relaxing a little, while just floating along the cascades. The chances are also high to observe aquatic birds along the shores, dwelling in the reeds, and not to mention, the strange-looking capybaras.
Exploring the Machuwasy Oxbow Lake.
We arrange private transportation to the lake's trailhead. Trails go along riverine forests densely populated by fig trees, bamboo, cecropias, and heliconias. While exploring these trails, look out for the squirrels and Dusky Titi monkeys.
Machuwasy is a small oxbow lake. It attracts a large number of Amazonian birds such as egrets, hoatzins, herons, kingfishers, rails, crakes, horned screamers, caciques, oropendolas, caymans, capybaras, and giant river otters.
The lake sits on an elevation of around 500 meters approx, so this makes it the first oxbow lake along the Manu route and probably the most visited by tourists who travel into the Manu Cultural Zone.
Visitors of the lake sign in to enter the area, (and the cost is covered by the operator). One great experience here, which you don't want to undoubtedly miss. Is boating on the lake itself, another mode of transport. Above all, you will get the chance to choose one of the rafts! Made from trunks of balsa wood tree tied in line. The boats are moved by a long stick, so you're in charge, good luck navigating. Take a seat and start moving. (There's no roof on top so it is advisable to take a wide hat or cap).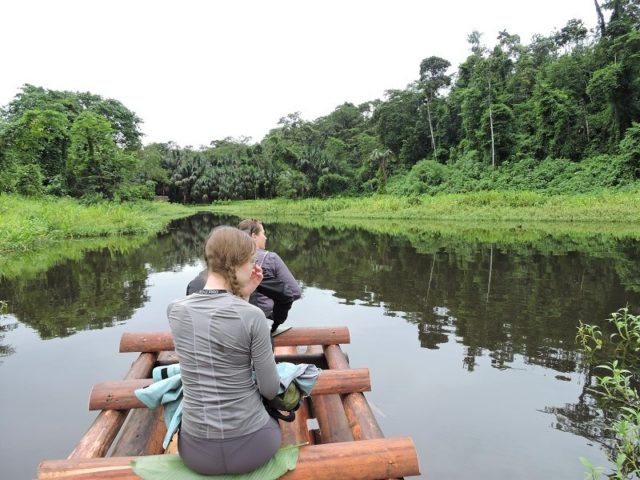 Hoatzin Kingdom
The Hoatzin Kingdom is exactly what it says on the tin. These bizarre "Hoatzin" birds that you will see around this Kingdom can be seen in large flocks. Quite a tolerant animal, and for that reason, these birds can be observed at close range. Even more, you can easily get clear and bright pictures of them while exploring this beautiful lagoon in Manu.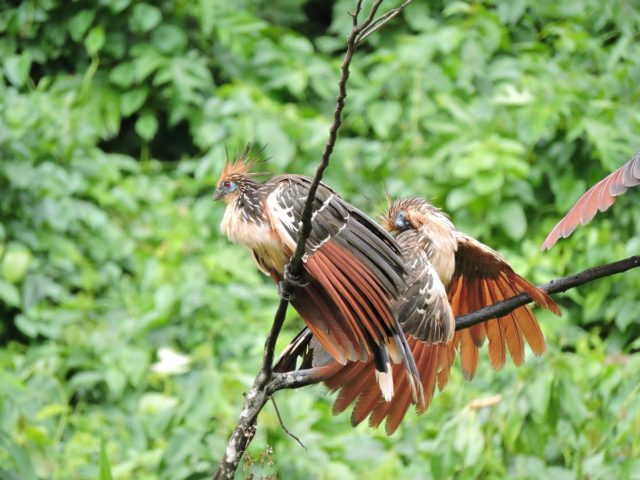 Recommendations
The access trail can be muddy during the wet season or high water period which begins from November to May. We provide rubber boots to our clients, we have all sizes available. Wearing wellies is recommended for all our guests. Due to the forest interior can be wet and slippery for regular shoes. Even in the dry season. Our guides will advise you on any information you require. As well as giving you the best insight and knowledge while spending your time in the wilderness.
Nature Walks
Walks to explore the different types of the forest will be offered by your guide on certain days. (According to your itinerary, physical conditions and weather alike). First of all, the walks take place during the morning and afternoon. Hence these are peak times to witness wildlife activity. Guides will keep you updated with weather conditions and suitable clothing that will be necessary prior to each walk. The walks usually last a couple of hours, and as a result, can be set up between mealtimes.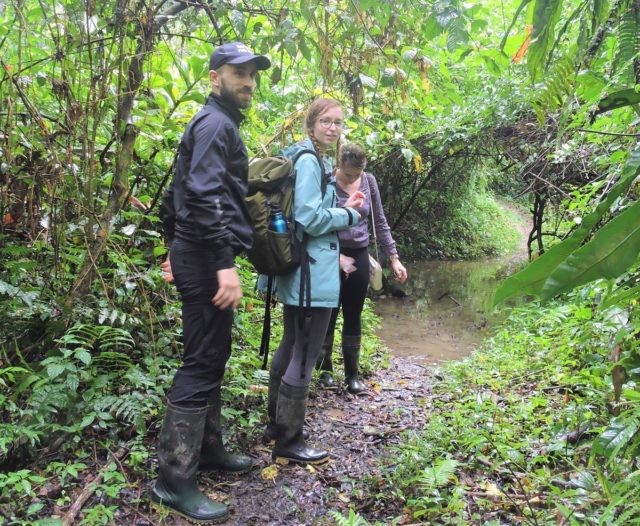 Optional activities – 4 days Amazon Tour Peru
Wildlife Rescued Centre "Dos Loritos"
This is a special project. Managed by a local family offering refuge to animals at their property. Most of the animals you encounter over here were rescued and donated by People of the nearby villages.
The pet wildlife that welcomes you are: monkeys, peccaries, macaws even 2 toes sloths idly hanging in the nearby bushes. They are quite tolerable for interactions, while we recommend keeping a safe distance.
For admittance into the project, A suggested donation (around 10 Peru soles per person.) They don't charge a fixed rate.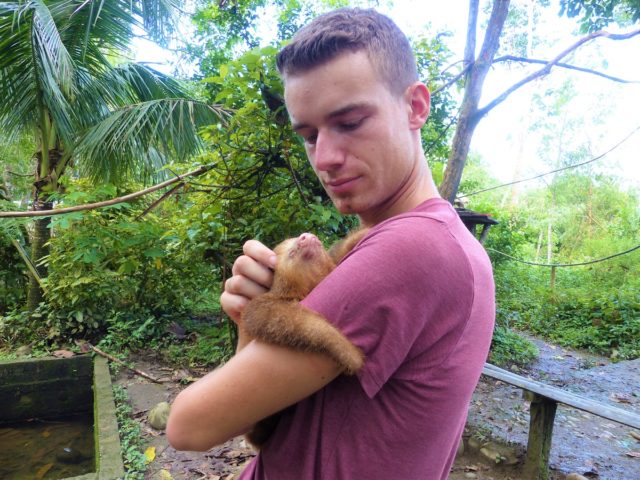 River Tubing at Atalaya (Alto Madre de Dios River)
If you're seeking adventure, rafting down the Madre de Die River is it. This fast-flowing river is a great way to travel through, and enjoy the Amazon. As well as the stunning embankments thriving with greenery and birds.
This activity is optional and costs $ 20.00 per person (it can be set and paid on the day of the tour) the activity last around 2 hours, all the safety gear will be provided
Biking around the Guadalupe Lodge
We have offered bikes to our guests at the Guadalupe Lodge where you can explore the road. These are safe, gravel roads. And what a way to explore is by cycling through the jungle and rainforests. We recommend following the single road that has not much traffic by motor vehicles, the vicinity of the lodge is safe and none populated, you will be basically surrounded by nature in its prime. The cost is $ 20.00 per bike the activity last around 2 hours, this activity can be  preferably set by midday (please  request this activity in advance) we provide helmets and the activity will be done from Guadalupe Lodge towards the Manu National Park borders around  6 KM (one way)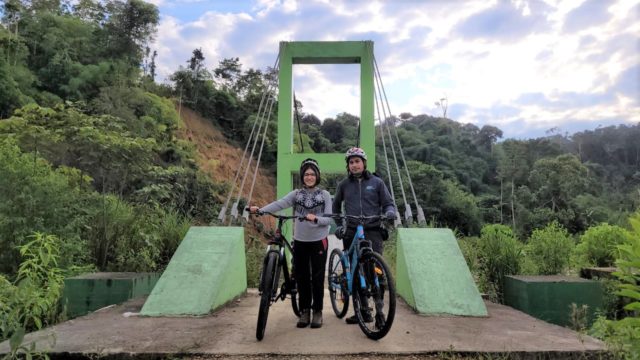 This is an experience you will not forget, here at Guadalupe Lodge, we welcome you to join us in making it most unforgettable. If any further information is required, do not hesitate to contact us. Not forgetting we will accommodate to find the most suitable tour for you. Private tours are also available for booking.
If you ready to escape the city life and immerse yourself in a full jungle experience then click the button below for more information about, departure dates, last-minute deals, COVID 19 policies, availability, etc.
Day 1
Cusco - Guadalupe Lodge
Breakdown of Day 1;
Start Time: 4.30/5.00/5.30.
Duration: Approx 7 hours travel.
Locations on Route: Ninamarca - Pre-Inca Tombs. / Paucartambo - Colonial Town. / Acjanaco Pass. / Guadalupe Lodge - final destination.
The beginning of the Manu Road passes through numerous dry inner-mountain valleys and picturesque villages. This gives you a quick overview of locals' lifestyles and colourful clothes. A brief call at Ninamarca will give you the possibility to explore the pre-Incas tombs within this well archaeological site. The road includes various stops, so you can enjoy seeing the surrounding landscapes varying from high-mountains to humid forests. Next stop will occur in the village of Paucartambo which features beautiful arched colonial bridge. From Paucartambo the altitude will keep on increasing and the setting gradually gets enveloped by a cloudy mist. The road leads you to Acjanaco pass consisting in the main gateway to Manu National Park.
Once across Acjanaco Pass (3550 m / 11.647 ft) the environment dramatically changes from dry to wet valleys. Do not miss the splendid view when looking down toward the lowlands! The lush and misty cloud forest surrounded by massive rocks and waterfalls is perhaps the most fragile and threatened type of rainforest. In such environment filled with lichens and moss-carpeted soil, spotting birds will be the main target. You will get the chance to stare at a large variety of birds ranging from the Peruvian national bird, the brightly red Andean Cock-of-the-Rock displays to tanagers, toucans or quetzals. The path will head down to the Guadalupe lodge (560 m./1837 ft). Overnight in the lodge. 
Day 2
Guadalupe Lodge - Trails Exploration
Breakdown of Day 2;
Forsest Exploration, observe birds & monkeys along the trails.
Head back for breakfast at Guadalupe Lodge.
Explore Guadalupe Gardens and the medicinal plants grown there: coca leaf, cacao, bamboo water, annatto, etc.
Swim in the Guadalupe river.
Visit Canyon and cave, chance to see bats, spiders and scorpions.
Trail walk through the bamboo forest, monkey spotting.
Finish day observing caimans along the river.
In the morning, you we will explore the foothill forest and palm forest is also an ideal spot to observe blue and yellow macaws as well as other interesting parrots and the capuchin Monkeys.
You will head back to the lodge where a delightful breakfast awaits you full of fresh tropical fruits. From then, you will be guided through the garden and will learn about the different medicinal and traditional plants such as coca leaf, cacao, bamboo water, annatto, etc. As this time of the day, put on your swimsuits and enjoy a dip in the Guadalupe river.
This crystalline and unpolluted current flows downstream from the core of the park.  In the afternoon, depending on the group's wishes, there is a possibility of discovering a fascinating canyon and its caves which house some rare species of bats, spiders and scorpions. Ultimately, a walk within the bamboo forest will enable you to spot some monkeys. The day is ending with the observation of caimans resting along the river's shores
Day 3
Guadalupe Lodge - River Boat - Lagoon Exploration
Breakdown of Day 3;
Breakfast at Guadalupe Lodge.
Atalaya Port - Boat Trip, Madre De Dios River.
Machuhuassy Oxbow Lake, - 2km Walk.
Ramble in the jungle, - Giant Kapok Tree, animal wild watch, medicinal plants.
Macaw Clay Lick.
Dos Loritos.
Guadalupe Lodge.
Enjoy waking up and having breakfast with the songs of Amazonian birds. We start the day travelling to Atalaya port where you can appreciate the view of myriads of colorful birds, and the rich wildlife. The drive goes along tropical plantations of papayas, bananas, chocolate and Coca Leaves.
At Atalaya river's deck, you will embark in a motor boat and navigate down this crystalline river of Madre de Dios. After an hour, you will reach Machuhuassy Oxbow lake, consisting wetlands of lush vegetation, hosting a large variety of birds (hoatzins, horned screamer, hawk, herons) and animals (monkeys and capybaras). This place is only reachable by boat followed by a 2-kms walk. While enjoying this tour, our local cook will prepare a traditional lunch that you can tuck into when returning from the Madre de Dios river. In the mid-afternoon, you will ramble through the primary forest searching for some families of monkeys, peccaries, as well as the Giant Kapok trees. During this, you will be informed with some explanations about the medicinal plants, reptiles, as well as mammals that dwell here.
We will visit the Small Macaw Clay Lick along the river bank, then returning to the lodge and it is optional to visit the Dos Loritos, Wild-Animals Rescue Centre run by a local family in Manu. Dinner and Overnight at Guadalupe
Day 4
Guadalupe Lodge - Cusco
Breakdown of Day 4;
Bird Watch & Breakfast.
Drive through the Cloud Forest. Waterfalls, animals. / Journey back to Cusco.
Arrival in Cusco approx 5pm.
Your morning walks along the palm forest to look for the blue and yellow Macaws. Enjoy a tasty breakfast and get ready to pack as you will soon start hit the road again to Cusco.
The way back will give more opportunities to glimpse some more animals and discover the wildlife of the cloud forest and having impressing views of the exuberant cloud forest with waterfall, cascades.  The arrival in Cusco should be around 5pm.
More about Manu National Park
More about this tour
Please find more information about this tour in printable version:
After completing your booking, please, fill up and sign the privacy policies and terms document online.
2.  Download the Full Itinerary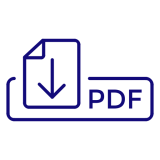 3.  Download the Faqs & Private Policies & Terms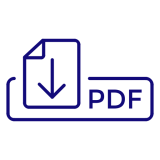 4. Download & Printable Version of the Packing List