Real Birding Experience
Exploring the Manu road and looking for the birds is a fascinating experience. A journey from the Andes to the Rainforest. The clouds forest holds an incredible bird's species including the cock of the rock at their displaying site. Going further down there is an increasing number of Amazonian birds such as; antbirds, toucans, antshikes. check for fixed departures and gets special discounts.
Available Anytime
Destination
Manu National Park
Information

Tour Plan

Location

Gallery

Reviews

Additional Info

Similar Tours
What's included
Departure Location
Cusco City - Transfer from Hotels , Airport, Bus Station
Return Location
Cusco City - Transfer from Hotels, Airport , Bus Station
Price includes
Birding Specialized Guide

Birdlist of the Location

Box Lunch

Duffel Bags for repacking

Entrances Fees (atractions listed)

Entrances Fees Guadalupe Private Reserve

Guadalupe Lodge Overnight

Meals (vegetarían optional)

Nights on Single Supplement

Overland (minivan, SUV) Transport

Purified Water

Rubber Boots

Snacks (fresh fruits, cookies, chocolate)
Price does not include
Alcoholic Drinks

Day 1st Breakfast

Domestic Flights / Bus Tickets

Last Day Dinner

Nights on Single Supplement
Explore Manu Biosphere Reserve and enjoy the spectacular bird diversity, and magnificent scenery a transect running from the Andes to the rainforest Around thousands of birds have been identified along Manu Park. In fact, much more than the United States and Canada combined! Keep in mind, these selected lodges have feeders for hummingbird's observation and other birds. The tour also offers chances to spot mammals, amphibians, and reptiles which makes it an ideal tour for families and travelers with different interests.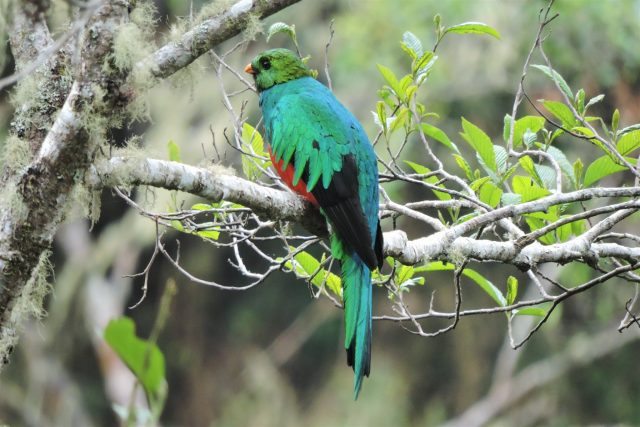 Which Lodges will be used?
Cock of the Rock Lodge
The Lodge sits in the heart of the Manu Cloud Forest on 1,500 meters of elevation surrounded by lush vegetation and a humid forest. The specialties living here are; Cock of the Rock, Crested Quetzal, Rufous-winged Antwren, Handsome Flycatcher, Solitary Eagle, Lyre-tailed Nightjar, Geoffroy's Daggerbill, Wire-crested Thorntail, Peruvian Piedtail, Lanceolated Monklet, Amazonian Umbrellabird, Olive Finch, and Cerulean-capped Manakin, among many many others. This location holds around 500 bird species according to Ebird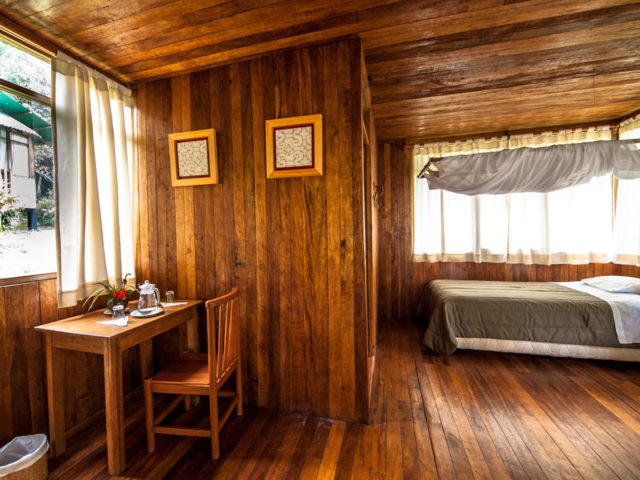 Reserva Ecologica Guadalupe
This location is ranked as a hotspot by Ebird counting the  371  (updated March 2021) and rising bird species. In turn, making it the best birding lodge in Peru. This location is one of the newest birding destinations in Manu. Reported from the mature bamboo forest, Mauriche Palm forest, and the Foothill Forest which relatively the Terra Firme in the lower mountains, you will encounter; Blue-Headed Macaw,  Buff-tailed sicklebill, Peruvian recurbill, Black-backed Tody-flycatcher, White-cheeked Tody-Flycatcher, Flammulated Pygmy-Tyrant, Yellow Tyrannulet, Manu Antbird, Yellow-Billed Nunbird, Golden-collared toucanet, Red-billed Pied Tanager, Black-banded woodcreeper, Rufous-headed Woodpecker, Fine Barred Piculet and many more.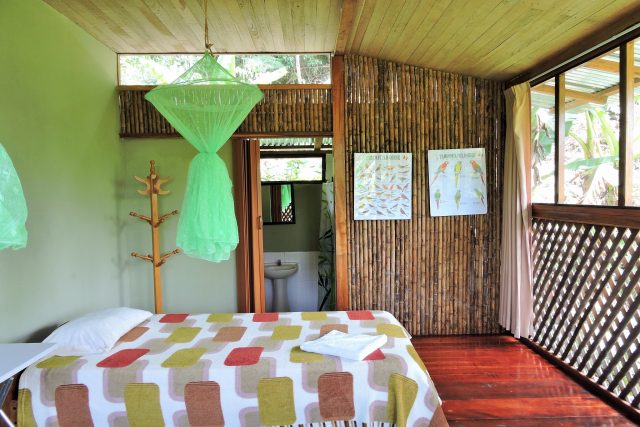 Overland Transportation from Cusco to Manu
Manu Park in the Peruvian Amazon rainforest has regular access by overland transportation from Cusco city. For our guided tours we use comfortable vehicles such as, the Mercedez Sprinter or Toyota KD minivans for groups that exceed 3 participants. In effect, the Toyota Fortuner  SUV 4×4 will be arranged for couples or small groups of 3 participants.
The experience traversing the Andes across the Amazon Rainforest
This Journey offers incredible views of cascades, waterfalls, and stunning surrounding landscapes. As a result encountering some of the best views, and diverse environments. Densely populated, the cloud forest is home to epiphytes, orchids, bromeliads, lichens, and more. The evidence of plant diversity here is so grand at these elevations.

The Wildlife in the Cloud Forest.
The 4 day Amazon trip offers a great chance to observe the Wooly monkeys that hang about the cloud forest. Looking up you will see, and definitely hear the colorful birds; Quetzal, Mountain Toucans, and the unmistakable Cock of the Rock. These brightly-colored birds are seen at certain spots, but not to worry. For the reason that our guides and drivers know these very well.
Birding from the Boat
Our Tour offers even more, including a most noteworthy day of boat navigation along the Madre de Dios river. A view of evergreen rainforest adorned by colorful trees blooms on the slopes of the mountains or the foothill forests.
The Boat trip begins from the Atalaya River Port. A motorized canoe alike embarkation (12 meters long and 2 meters wide with a roof to prevent any sudden rain or sunshine). These types of boats are the most ideal for fast-flowing rivers. Even relaxing a little, while just floating along the cascades. The chances are also high to observe aquatic birds along the shores, dwelling in the reeds and not to mention, the strange-looking capybaras.
Certainly a memorable experience, we provide motorized canoe boats to travel down the river with experienced native drivers, (canoe type of 14 meters long – 2 meters wide). The boat has a roof to prevent any sudden rain and sunshine. Life jackets are provided, and medical first aid kits.
Birding Walks
Walks to explore the different types of the forest will be offered by your guide on certain days. (According to your itinerary, physical conditions and weather alike). First of all, the walks take place during the morning and afternoon. Hence these are peak times to witness wildlife activity. Guides will keep you updated with weather conditions and suitable clothing that will be necessary prior to each walk. The walks usually last a couple of hours, and as a result, can set up between mealtimes.
Habitats Covered in regular 4 days
For an overall productive experience, this tour focus on visiting and exploring the diverse types of forest that is home to these unique birds. Exclusively, day today. A habitat monitored by our expert local guides. Encountering more and more of these uncommon species along the route.
While exploring the cloud forest in Manu. The Andean bird species predominate with a large number of tanagers forming the basis of the large mixed-species flocks that are often encountered here. Other specialties include; the Peruvian Endemics; Red and White Antpitta, Peruvian Pied-tail, Cerulean Capped Manakin, Peruvian Recurbill, Black-Backed  Tody-Flycatcher.
During this trip, you will stay at our different Lodges. Located specifically in order to experience the best birding opportunities. Situated in different environments. These lodges are the best of the best in Manu. The range of landscapes you will encounter. Shows the vastness and diversity of which these birds dwell.
The Palm forest around Guadalupe Lodge
The Mauritia palm forest at Guadalupe Lodge gives an incredible contrast. Locally known as the Aguajales (Mauritia palm forest) it forms a complex habitat and permanently wet swampy areas. These areas attract the best of the best in terms of birding. In contrast to the landscapes and the diversity of plants here.
This complexity gives rise to the high diversity of birds. Just looking up you encounter brightly colored birds soaring in two's, hearing them call to one another. Rather, a well-known birding hotspot. Essentially psittacines including; Blue-headed macaw (Pionus couloni) Blue and Yellow Macaw, Sulphury Flycatcher.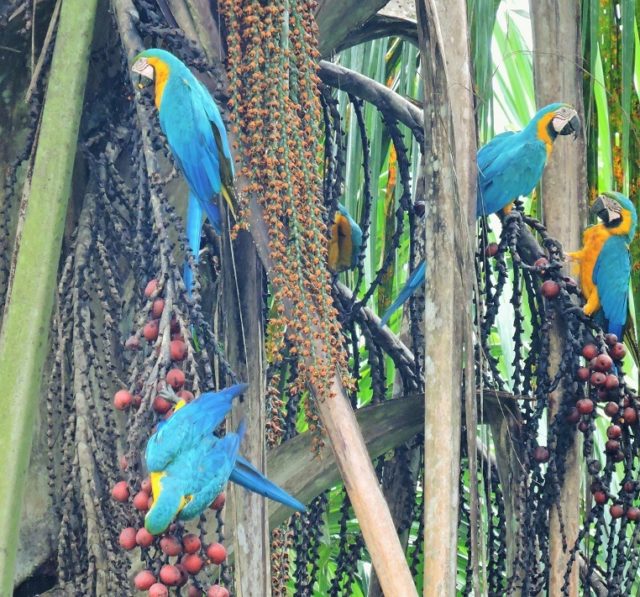 Foothill Colinas Forest.
Furthermore, birding on the higher part of these hills is quite an interesting experience. To say the least. Regular sightings of birds seen here are; Golden-collared toucanet, fascinated antshrike, red-billed pied tanager, ornate Antwren, rusty belted tapaculo, Semi-collared puffbird, masked, yellow-backed, green and gold, paradise tanagers, pavonine cuckoo, and military macaws. If you are lucky, you might spot some raptors; harpy eagle, Buckley's, and barred forest falcon. The bird species recorded over this location can be found in Ebird as Reserva Ecologica Guadalupe

Bamboo Forest
The Bamboo Forest, which should certainly not be missed while experiencing Birdwatching Tour in Manu. This is a highlight spot when following the winding trails through the forest. You will not miss the bird calls and see them swooping from tree to tree. Bamboo thickets in western Amazonia provide important habitat for several bird species. As a result, some of which are restricted to such thickets communities.
The species that you can see here are; Rufous Headed Woodpeckers, White Cheeked Tody-flycatcher, Peruvian Recurbill, Ornate Antwren, Large Headed Flat Bill, Manu Antbird, Dot Winged Antwren, Dusky Cheecked Foliage Gleaner, and others.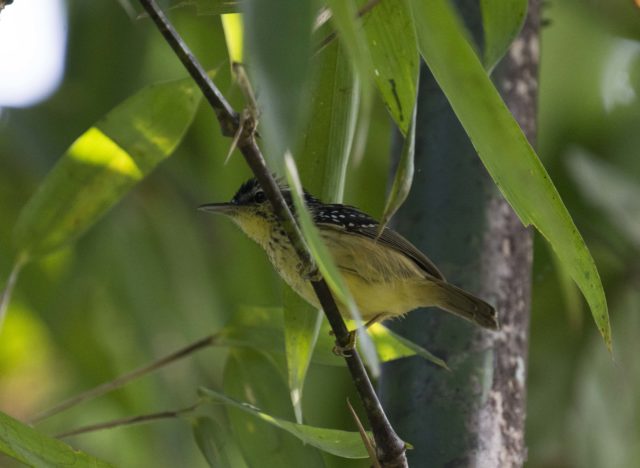 The Lagoon in Patria
We exclusively use this location during our Manu Birdwatching Tour. It also holds second-growth specialists and the endemic Black-backed Tody-Flycatcher. See birds swoop over you. Watch them as curious as they are. Taking quick dips in the waters, due to the glare of the hot sun.
A great number of migrant and shores birds are reported in this location, such as; Black-bellied Whistling-Duck, Osprey, Least grebe, Yellowlegs, Stilts, Semipalmated Plover. Earlier reports of Southern Lapwing, Brazilian Teal, and Southern CaraCara.
The most common birds of the lagoon are; Hoatzin, Flycatchers, woodpeckers, herons kingfishers, Amazonian Antpitta, Silvered Antbird, little cuckoo, and Black Billed Seedfinch. Nowadays, this area alone holds a record of around 90 species in EBird.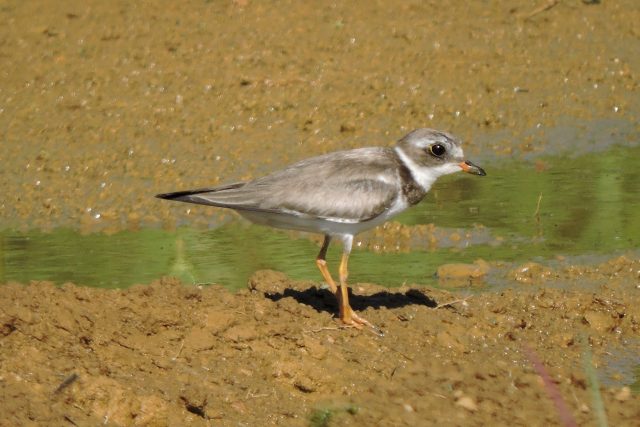 The Macaw Clay Lick at Maskoitania
This is a regular clay lick that provides good chances to see more of the mid-sized macaws, chestnut fronted, blue-headed, and a larger number of parakeets and parrots such as; blue-headed, mealy and yellow-crowned parrots and dusky headed parakeet, cobalt winged parakeet, white-eyed parakeet, and other unusual visitors like raptors.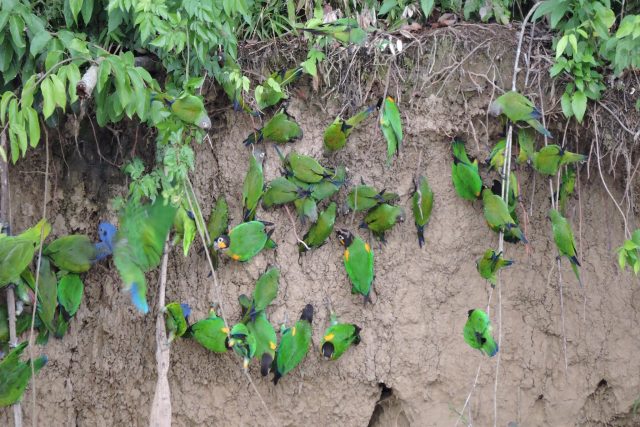 Exploring the Machuwasy Oxbow Lake.
Machuwasy is a small oxbow lake. It attracts a large number of Amazonian birds such as egrets, hoatzins, herons, kingfishers, rails, crakes, horned screamers, caciques, oropendolas, caymans, capybaras.
The lake sits on elevation around 500 meters approx, so this makes the first oxbow lake along the Manu route and probably the most visited by tourists who travel into the Manu on birding purpose, currently 330 species of birds have been reported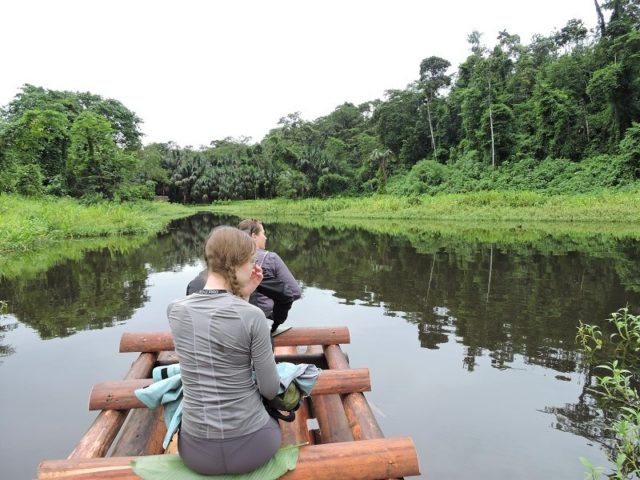 Hoatzin Kingdom
The Hoatzin Kingdom is exactly what it says on the tin. These bizarre "Hoatzin" birds that you will see around this Kingdom can be seen that in large flocks. Quite a tolerant animal, and for that reason, these birds can be observed at close range. Even more, you can easily get clear and bright pictures of them while exploring this beautiful lagoon in Manu.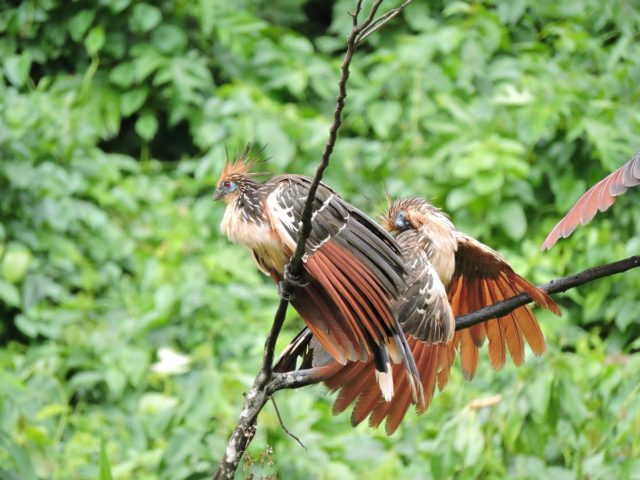 Manu Cloud Forest – Cock of the Rock lodge
We will stay one night in the middle of the cloud forest at 1,500 meters elevation. At Cock of the Rock Lodge. Above all, what these birds do for cloud forests. We can only begin to imagine what cloud forests do for birds. Cloud forests sustain an impressive diversity of endemic and near-endemic species, see the list at Ebird.
If you have a keen eye and the thrill for adventure. Here is definitely the tour for you. Get your binoculars and cameras at the ready. To capture the experience of a lifetime. While sharing your time with birds of the jungle.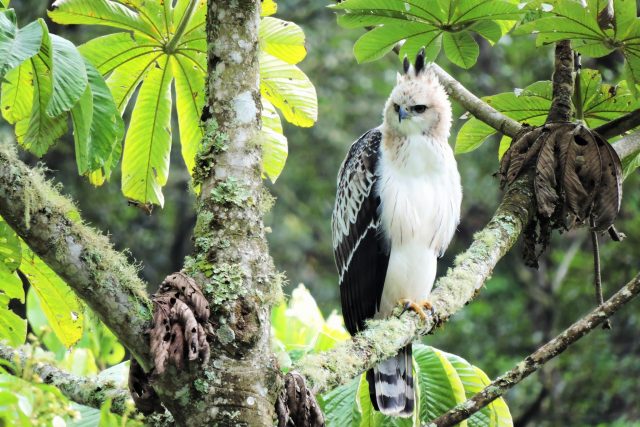 If this sounds like your kind of tour. To see some of the most beautiful and brightly colored birds in this area. Then look no further. We have the best spots and resources for spotting wildlife where it counts. As a tour company, it is most important to record and monitor these species. It is our job to monitor and protect. In order to preserve and keep tabs for the welfare of these exquisite animals. With your help, we can save some endangered species. And most importantly, educate our world on some of these creatures. To help with understanding and respecting the wildlife at our doorstep. Here in Peru, we are lucky to call this home to so many. Join us now, at Manu Birdwatching tours. We await to hear from you. Contact us for any inquiries you may have.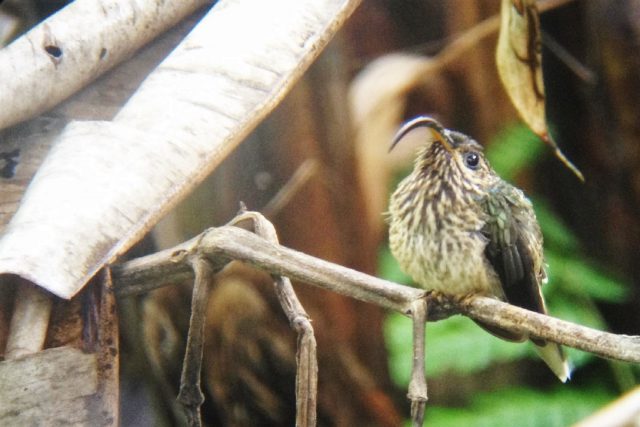 If you ready to escape the city life and immerse yourself in a full jungle experience then click the button belo
w for more information about, departure dates, last-minute deals, COVID 19 policies, availability, etc.
Day 1
Cusco - Cock of the Rock Lodge
Early morning pick up from your hotel and drive towards the
Huacarpay lake
to search for a couple of endemics; Bearded Mountaineer, Chestnut Breasted Mountain Finch, and other interesting bird for the high Andean Mountains such as; Andean Flicker, Mountain Caracara, Andean Lapwing, Giant hummingbirds, Rufous Webbed Shrike-Tyrant, Ground Tyrants and others. We continue and passing by the Intermountain valleys, we stop briefly for the Undulated and Rufous Antpitta, Rust, and Yellow Tanager, Red Crested Cotinga, Creamy Crested Spinetail, Sword Billed Hummingbird, Brown Backed Chat-Tyrants, Flowerpiercers, and Flycatchers. Driving uphill we will reach the high mountains which is locally known as Puna, we will be searching diligently for Sedge Wren, Line Fronted, and Junin Canastero while descending the Acjanacu Pass (1066 feet). The vegetation is scattered and we will look for birds of this habitat such as; Chestnut Bellied, Hooded, Scarlet Bellied Mountain-Tanager and the bird's flocks that travel at this misty forest are quite productive also to find some specialists at this elevation, Crimson Mantled Woodpecker, Plushcap, White Banded & throated Tyrannulet, Pearled Treerunner, Puna Thistletail, Black-throated Tody-Tyrant, Sierran Elaenia, Golden Collared, Grass Green, Blue Capped Tanagers,  Band-tailed and Barred Fruiteater, Streaked Tuftedcheeck, Purple Backed Thornbill among others in the mixed flocks as they are more frequently to find them flying across the road. Other interesting targets at Tuneles and Esperanza location are; Gray Breasted Mountain-Toucan, Chestnut Crested Cotinga the Endemic Red and White Antpitta, while transecting along the Cloud Forest as we keep driving down into the mountain. The vegetation will gradually have changed into more dense vegetation. It holds bird species like; Golden Headed Quetzals, Stripe-faced Wood-quail, Yungas Pigmy Owl, Blue-Banded Toucanet, Collared Jay Mountain Cacique, Greater Scythebill.
If lucky enough we may see the umbrella as far driving down the mountains we will arrive in the Lodge which one of the best, to observe the Cock of the rock, (Peru's national bird). It easier to find them while they are displaying at their lek, (the male birds are a vibrant reddish-orange, and as many as several dozens get together for an exhibition of a mating ritual dance in a place called Lek) overnight at the Lodge.
Day 2
Cock of the Rock Lodge - Guadalupe Lodge
We will be looking to observe Cock of the Rocks (Rupicola peruviana), Peru's national bird from a platform. The male birds are a vibrant reddish-orange, and as many as several dozen get together for an exhibition of a mating ritual dance in a place called "Lek"
After this we will visit the flowers/feeders that attract hummingbirds, we will be able to see the following species; Booted Racket Tail, Wire crested Thorntail, Green Hermit, Many Spotted Hummingbird, Violet Fronted Brilliant, White-Bellied Woodstar, Peruvian Pied tail, Long-Tailed Sylph, Wedge Billed Hummingbird, Speckled Hummingbird, and the common Sparkling Violetear.
During the afternoon we will sadly leave the lodge to look for few target species, if lucky enough we may see the umbrella as far driving down the mountains. We will pass by a swamp that is packed by Hoatzins known as pre-historic birds due to its appearance, Most of the bird sights here are also; Brazilian Teals, Southern Lapwings, Flycatchers, Amazon, Green Kingfishers, Little, Lineated, and Spot Breasted Woodpeckers. Gray Breasted and Rufous Sided Crake, Capped Heron, Little Cuckoo, Silvered Antbird, and many more.
We will arrive in our lodge Guadalupe just on time to see the nightjars (Common Pauraque) these elusive birds used to catch insect during dusk, the road it's by far the best place to see them.
Day 3
Guadalupe Lodge - Machuhuasi Oxbow lake
After early morning breakfast will descend out of the foothills to keep looking for birds along the road few stops including the beautiful Blue and Yellow Macaws, Trogons, Woodpeckers, Great Potoo, and many second-growth specialists such as; seedeaters and flycatchers. The road crosses a low set of hills where we get the Alto Madre de Dios River starts along the boat journey there will be chances to observe shorebirds which often seen foraging on the rocky gravel bars and we will keep a close watch raptor, so we will be exploring the trails to Machuhuasi lagoon (1900 ft) we will have chances to look for the Amazonian Antpitta, Rufous Breasted Piculet, Cabannis Spinetail, arriving in the lagoon we will be welcomed by the noisy and clumsy hoatzins which are one of the most commons birds next to the Black-Capped Donacobius, Horned Screamers, Blackish Rail, Black Billed Seed-Finch, Orange Backed Troupial, Red Capped Cardinal, Pale Eyed Blackbird, Rufous Sided Crake. During the afternoon we will explore trails to observe the foothill specialist return to Guadalupe Lodge to spend the overnight
Day 4
Guadalupe Lodge - Cusco
We will wake up with the amazing variety of birds call that emerge out from the forest. The diversity of callings are incredible here, the most frequently heard are specialist from the bamboo forest; Mustached and Scaly Breasted Wren, Golden Bellied and Buff Rumped Warbler, Warbling Antbird, Dot Winged Antwren, Bluish Fronted Jacamar, Manu, Striated, White Line Antbird, Stripe Chested Antwren among others. Calls you heard coming just behind your cabins, we also heard the calls of the Blue and Yellow Macaws overflying at dawn. 
Exploring the garden we get chances to spot the; Golden Tailed Sapphire, Blue-tailed Emerald, Rufous Breasted, White Bearded and White Browed Hermit, Gray Breasted Sabrewing, Buff Tailed Sicklebill, Rufous Crested Coquette, Golden Tailed Sapphire.
Continuing the journey back we start climbing the Andes and arriving in Cusco at night.
More about Manu National Park
More about this tour
Please find more information about this tour in printable version:
1. Download the Full Itinerary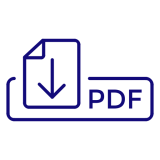 Download the Packing List
Download the Manu National Park 

Download our Private Policies & Terms 2023 (Covid 19)