DAILY DEPARTURES FOR GROUPS UP 3 PAXS
Jump into the Wilderness
"Discover the Amazon's Hidden Treasures with Our Short Tours! We specialize in arranging short tours into the Manu National Park. We offer multi-day excursions, to give our clients a unique and exciting experience of the Amazon's vibrant wildlife, culture, and landscapes. Our experienced guides and knowledgeable staff will ensure that you get the most out of your time at the Rainforest Amazon. Join us and explore the hidden treasures of the Amazon
Discounted for groups up 3 Participants
Destination
Manu National Park
Information

Tour Plan

Gallery

Reviews

Additional Info

Similar Tours

Location
A magnificent wildlife experience and a unique experience to admire the Manu in only 2 days trip through diverse ecosystems with breathtaking views of the cloud forest and the Andes mountain range. The evolution of landscapes from mountains to forest enable nature's enthusiasts to capture stunning views over the cloud forest, and oxbow lakes or to visit caves inhabited by bats and spiders.
Read our recommendations;
What's included
Departure Location
Cusco City - Transfer from Hotels , Airport , Bus Station
Return Location
Cusco City - Transfer from Hotels , Airport , Bus Station
Price includes
Duffel Bags for repacking

English Speaking Guide

Entrances Fees (atractions listed)

Guadalupe Lodge Overnights

Lodging (Double bed occupancy)

Meals (vegetarían optional)

Motor Boat Transport (Canoe type)

Overland (minivan, SUV) Transport

Purified Water

Rubber Boots

Snacks (fresh fruits, cookies, chocolate)
Price does not include
Alcoholic Drinks

Domestic Flights / Bus Tickets

Nights on Single Supplement

Wildlife Rescued Centre Ticket
"Discover the Amazon's Hidden Treasures"
Traveling on tight agenda while dreaming to explore as much of Peru as challenges you to leads you to time optimization so this demands an exceptional tour design and structure without exceeding your budget.  In fact, looking to help this group of nonstop travelers, we have designed this Express Tour along with the Manu Jungle, exclusively for tourists with limited time while exploring,  staying, or just passing  Cusco, Machu Picchu, or the Sacred Valley area.
How Much time is needed?
Around 6 hours is the travel time from Cusco city center to the tropical rainforest of 500 meters in elevation (Guadalupe Lodge), of course driving diligently in Peru so this is the time needed to go across 2 regions in the south of Peru (Andean mountains – Tropical rainforest) plus traversing the whole Manu Cloud forest. Contrary to this,  6 hours can be easily wasted transiting at the airports in a rigid schedule that depends on flights, in fact, you get an overland experience, and there are no unnecessary stops to be expected during this journey. Of course for toilet facilities, stretch-out legs, or pictures of the sunset. This is in order to optimize the time and arrive at the lodge for dinner time.
Tour Details
Ground Transportation Cusco – Manu
Our  Toyota Fortuner  SUV 4×4 will be arranged for couples or small groups of 3 participants. This Journey offers incredible views of cascades, waterfalls, and stunning surrounding landscapes. As a result encounter some of the best views, and diverse environments. Densely populated, the cloud forest is home to epiphytes, orchids, bromeliads, lichens, and more. The evidence of plant diversity here is so grand at these elevations.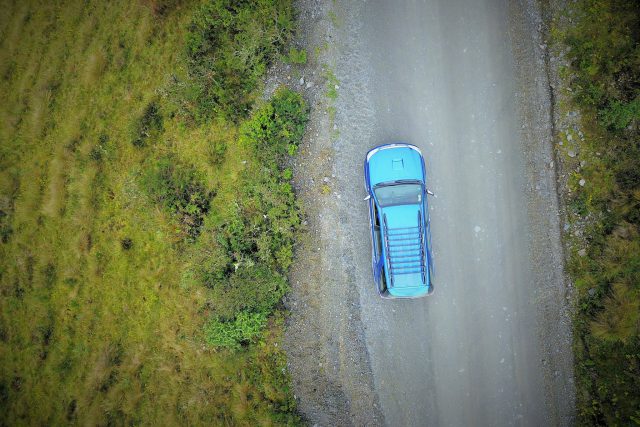 River  Transportation
For any Manu Tour, we include a boat excursion, certainly a memorable experience, we provide motorized canoe boats to travel down the river with experienced native drivers, (canoe type of 14 meters long – 2 meters wide). The boat has a roof to prevent any sudden rain and sunshine. Life jackets are provided, and medical first aid kits.
We embark from the Atalaya Port & Town, to travel downstream for somewhat 2 hours. Reaching the vicinity of Machuwasy Lagoon at elevations below 500 meters above sea level.
The activities
Visiting the Caves at Guadalupe Lodge
We offer exclusive excursions to the caves/canyons at Guadalupe Lodge. The caves are only 10 minute walk from Lodge. Originated by creek erosion, the canyon is a natural formation. This area has cut into the mountain, and as a result has created an environment that harbors species that evolved in the darkness: bats, tailless whip scorpions.  Also, taking a walk during the nighttime would be an especially amazing opportunity to look for the: dwarf caimans and the Water Opossum, which is the only species of aquatic opossum in the Neotropical. If you are afraid of being too close to these creatures at night time, this activity is optional. Advisable to wear water boots.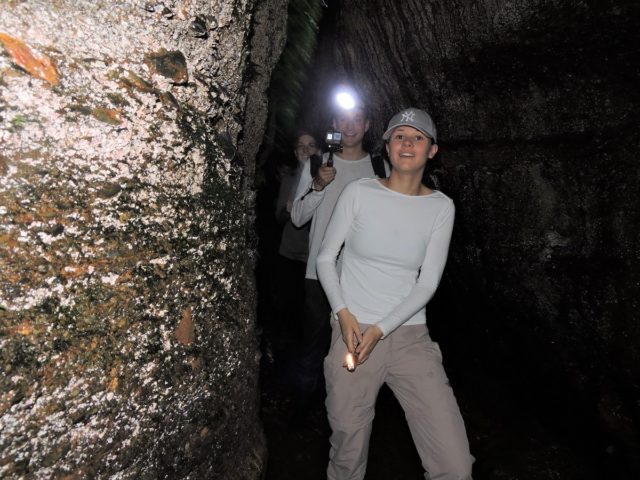 The Boat Trip – Full Day
Our Tour offers even more, including a most noteworthy day of boat navigation along the Madre de Dios river. A view of the evergreen rainforest adorned by colorful trees blooms on the slopes of the mountains or the foothill forests.
The Boat trip begins from the Atalaya River Port. A motorized canoe alike embarkation (12 meters long and 2 meters wide with a roof to prevent any sudden rain or sunshine).
These types of boats are the most ideal for fast-flowing rivers. Even relaxing a little, while just floating along the cascades. The chances are also high to observe aquatic birds along the shores, dwelling in the reeds and not to mention, the strange-looking capybaras.
Exploring the Machuwasy Oxbow Lake.
We arrange private transportation to the lake's trailhead. Trails go along riverine forests densely populated by fig trees, bamboo, cecropias, and heliconias. While exploring these trails, look out for the squirrels and Dusky Titi monkeys.
Machuwasy is a small oxbow lake. It attracts a large number of Amazonian birds such as egrets, hoatzins, herons, kingfishers, rails, crakes, horned screamers, caciques, oropendolas, caymans, capybaras, and giant river otters.
The lake sits on an elevation of around 500 meters approx, so this makes it the first oxbow lake along the Manu route and probably the most visited by tourists who travel into the Manu Cultural Zone.
Visitors of the lake sign in to enter the area, (and the cost is covered by the operator). One great experience here, which you don't want to undoubtedly miss. Is boating on the lake itself, another mode of transport. Above all, you will get the chance to choose one of the rafts! Made from trunks of balsa wood tree tied in line. The boats are moved by a long stick, so you're in charge, good luck navigating. Take a seat and start moving. (There's no roof on top so it is advisable to take a wide hat or cap).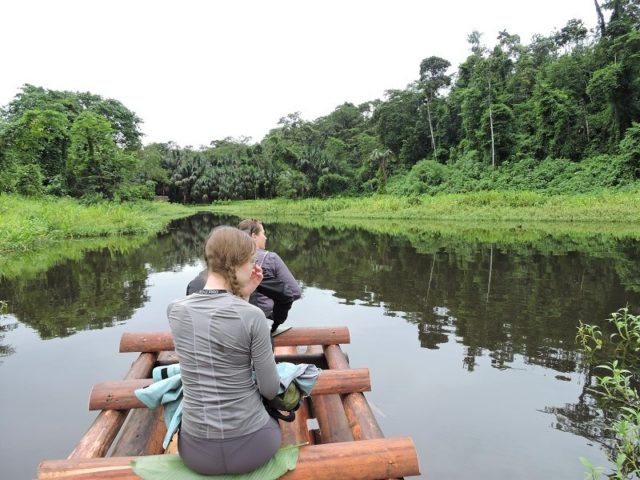 Hoatzin Kingdom
The Hoatzin Kingdom is exactly what it says on the tin. These bizarre "Hoatzin" birds that you will see around this Kingdom can be seen in large flocks. Quite a tolerant animal, and for that reason, these birds can be observed at close range. Even more, you can easily get clear and bright pictures of them while exploring this beautiful lagoon in Manu.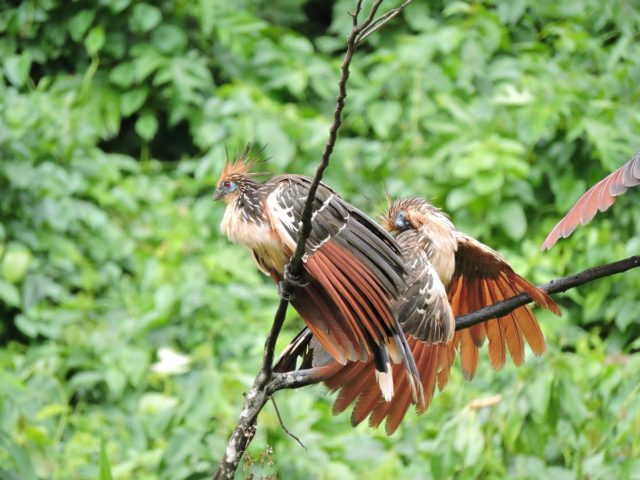 Recommendations
The access trail can be muddy during the wet season or high water period which begins from November to May. We provide rubber boots to our clients, we have all sizes available. Wearing wellies is recommended for all our guests. The forest interior can be wet and slippery for regular shoes. Even in the dry season. Our guides will advise you on any information you require. As well as giving you the best insight and knowledge while spending your time in the wilderness.
Nature Walks
Walks to explore the different types of forests will be offered by your guide on certain days. (According to your itinerary, physical conditions and weather alike). First of all, the walks take place during the morning and afternoon. Hence these are peak times to witness wildlife activity. Guides will keep you updated with weather conditions and suitable clothing that will be necessary prior to each walk. The walks usually last a couple of hours, and as a result, can set up between mealtimes.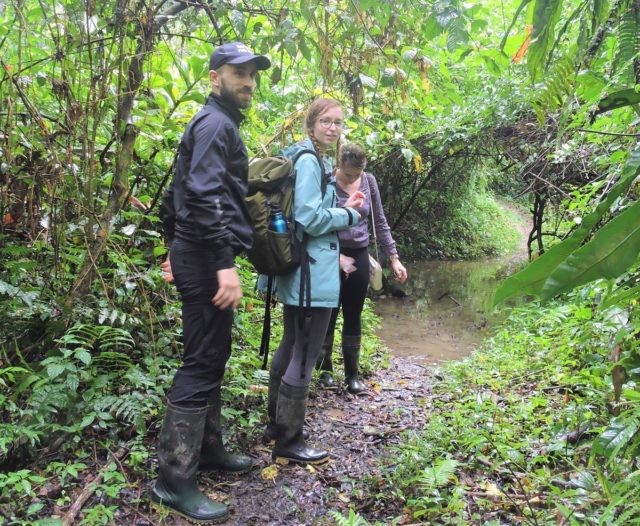 Which lodge will be used?
The 2 nights of the tour will be spent at Guadalupe Lodge, which is situated in the Amazon jungle. One of the best locations to get immersed in nature. Also allowing time to relax in the jungle and enjoy the commodities of your cabins. This tour is led by our specialized expert guide, eager to help you to create unforgettable experiences when visiting the Peruvian Amazon. (English-speaking tours).  This is an experience you will not forget, here at Guadalupe Lodge, we welcome you to join us in making it most unforgettable. If any further information is required, do not hesitate to contact us. Not forgetting we will accommodate you to find the most suitable tour for you.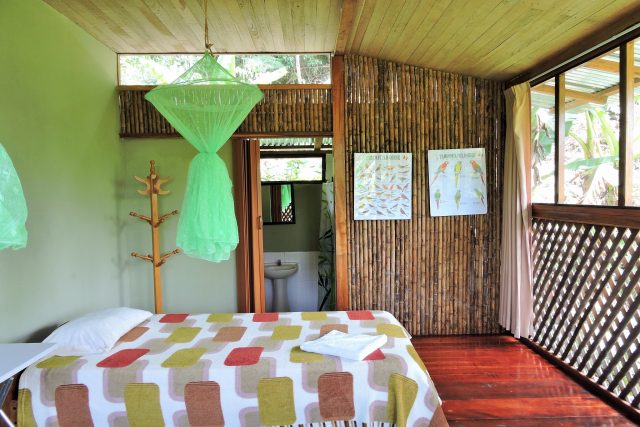 Looking for more information? Click Below
Day 1
Driving from Cusco - Cloud Forest - Motor Boat & Trails - Guadalupe Lodge
Pick up from your Hotel, Airport in Cusco from 5:30 AM
Driving along the Manu Road and briefly stop at Oropesa "bread town"
Brief Stop at  the Ninamarca pre-Incan burials
Brief Stop at Paucartambo Village and a guided walk along the local market, the main square, the colonial bridge
Exploration of the cloud forest in search of interesting species; monkeys, cock of the rock, quetzals, mountain toucans
Arrive at Atalaya Port and have lunch on the motor boat.
Motor Boat ride up and downstream along the Alto Madre de Dios River (downstream)
Guided walk along the riverine forest to look for monkeys, caymans, and birds
Exploration of the channels of the Machuhuasi Lagoon in search of aquatic birds, monkeys, and caymans
Boat drive to Atalaya and entrances to Guadalupe Lodge
Dinner at Guadalupe Lodge.
Day 2
Guadalupe Lodge - Trail Explorations - Caves - Minivan ride to Cusco
Guided walk along the palm forest to look for macaws and monkeys (loop trail)
Visit Canyon and caves, the chance to see bats, spiders, and scorpions.
Exploration of the lagoon by local rafts (Balsa Wood) to look for caymans and some aquatic animals 
Breakfast at Guadalupe Lodge.
Journey back to Cusco, drive through the cloud forest, waterfalls, and wildlife searching
Brief stop at Paucartambo Village for coffee
Arrival in Cusco at approx 5 PM and drop off at your hotel in the city
A magnificent wildlife experience and a unique experience to admire the Manu in only 2 days trip through diverse ecosystems with breathtaking views of the cloud forest and the Andes mountain range. The evolution of landscapes from mountains to forest enable nature's enthusiasts to capture stunning views over the cloud forest, and oxbow lakes or to visit caves inhabited by bats and spiders.
Read our recommendations;
Travelicious Review
Summary
"Discover the Amazon's Hidden Treasures with our short tours from Cusco!" we are the most specialized tour operator in short guided tours along the Manu National Park.
More about Manu National Park