DISCOUNTED ON EARLY BOOKING
Real Birding Experience
Cloud Forest & Foothill Birding Manu 4 days
Exploring the Manu road and looking for the birds is a fascinating experience. A journey from the Andes to the Rainforest. The cloud forest holds an incredible bird's species including the cock of the rock at their displaying site. Going further down there is an increasing number of Amazonian birds such as; antbirds, toucans, antshikes. check for fixed departures and gets special discounts.
Information

Tour Plan

Route

Gallery

Reviews

Additional Info

Similar Tours
Birding in the Peru Cloud Forest is a great experience for birdwatchers of all levels. With its unique climate and amazing wildlife, the Peru Cloud Forest is a must-visit destination for anyone who loves birds.
What's included
Departure Location
Cusco City - Transfer from Hotels , Airport, Bus Station
Return Location
Cusco City - Transfer from Hotels, Airport , Bus Station
Tour Start Date & Time
10 September, 2023 5:30 am
Price includes
Bird-listing by Ebird

Box Lunch

Cock of the Rock Observatory

Duffel Bags for repacking

Entrances Fees (atractions listed)

Entrances Fees Guadalupe Private Reserve

Guadalupe Lodge Overnights

Hummingbirds Gardens

Lodging (Double bed occupancy)

Meals (vegetarían optional)

Overland (minivan, SUV) Transport

Paradise Lodge Overnight

Purified Water

Rubber Boots

Snacks (fresh fruits, cookies, chocolate)

Specialized Birding Guide +Spotting scope
Price does not include
Alcoholic Drinks

Day 1st Breakfast

Last Day Dinner

Nights on Single Supplement
Cloud Forest Birding Experience
The Cloud Forest in Peru offers unique habitat which is home to a variety of rare birds, some of which can only be spotted its located in the eastern part of the Andes Mountains and is home to a wide range of birds.  Indeed it's an ideal location for birdwatchers of all levels. Birdwatchers can spot some of the most colorful and interesting species of birds found anywhere in the world. Among them are the Andean cock-of-the-rock, the golden-headed quetzal, and together with momots,  mountain toucans.
Manu Road – Cloud Forest
The Manu cloud forest is a unique environment. With a high level of biodiversity and a wide variety of species of birds such as; Quetzals, Cock of the Rock, Mountain Tanagers, Motmots, and Mountain Toucans among other colorful species.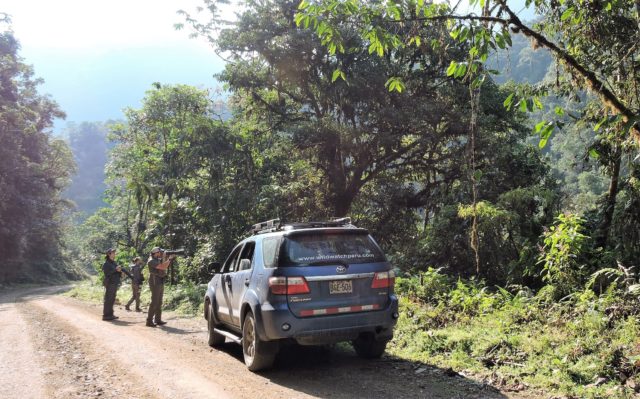 The Sounds of the Cloud Forest
Birders can enjoy the birdsong and take in the spectacular views of the surrounding mountains.  Birders may have the chance to spot some rare species of birds that are rarely seen elsewhere.  In effect, the Manu road transects across the cloud forest. Many birders concluded that this region provides an ideal setting for observing and photographing birds, as the elevation range favors observing great diversity.
Birding along the cloud forest with an expert local guide can be a great way to discover interesting birds in their natural habitats. Birders significantly can learn about the different species of birds, their behaviors, and the best way to spot them.
Which Lodges will be used?
We will be using the most selected lodges for birding purposes
Cloud Forest  – Paradise Lodge
At this lodge, birders will be able to observe a wide variety of birds and check the Ebird List, including the most emblematic species such as; Cock of the Rock, Booted racket tail, and other hummingbirds.
Additionally, everyone can enjoy bird watching from the comfort of the lobby and balcony which offers an ample view. The lodge sits at 1,500 meters in elevation. The nearby area of Paradise lodge has one of the largest bird reports according to Ebird
Foothill Area – Guadalupe Lodge
Birding at Guadalupe Lodge offers an opportunity to observe a wide variety of birds in their natural habitat. The birds often seen, includes the rare and endemic species; Black-backed Tody-flycatcher, White-cheeked Tody-Flycatcher, Buff-tailed sicklebill,  Rufous-headed Woodpecker, and the rare Blue Headed Macaws.
Birders can also find colorful songbirds like the Nightingale wren and B Y Macaws. Additionally, visitors can see shorebirds such as the F.T. Heron, and Sunbittern. With its diverse habitats and abundant birdlife, offers unique habitats to explore from; mature bamboo, and Mauriche Palm forest (P.T  Palmcreeper).
The Foothill Forest is the equivalent of Terra Firme in the lowland rainforest. The most common species are;  Red-billed Pied Tanager, Golden Collared Toucanet, Hairy Crested Antbird, and Harpy Eagles had been reported twice.
Check out our bird list (Ebird March 2023),  despite our reports that started in 2018, our reserve is home to over 393 so far.
Which Habitats will be covered?
For an overall productive experience, this tour focus on visiting and exploring the diverse types of forest that is home to these unique birds.
Manu Road along the Cloud Forest
Birding guides have intimate knowledge about where to spot the birds on the road. In effect, the Andean cloud forest bird specialist predominates with a large number of tanagers forming the basis of the large mixed-species flocks. Some other species are often seen at the road edge,  diligently perched forcing sudden stops.
The Palm forest at Guadalupe Lodge
The Mauritia palm forest at Guadalupe Lodge gives an incredible contrast. This complexity gives rise to the high diversity of birds attach to this type of habitat. Just looking up you encounter brightly colored; Blue-Headed Macaw (Pionus colony), and Blue and Yellow Macaws. Additionally; Point Tailed Palmcreeper and Sulphury Flycatchers.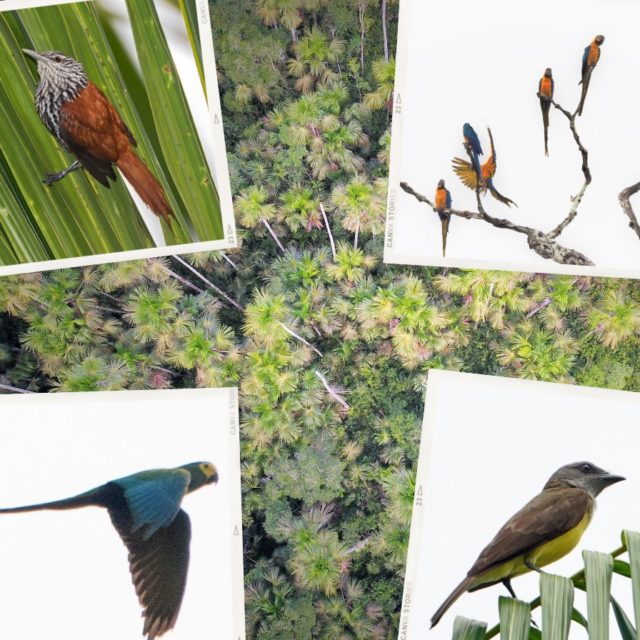 Foothill Forest.
Furthermore, birding on the higher part of these hills is quite an interesting experience. Regular sightings are; Golden-collared toucanet, fascinated antshrike, R, B pied tanager, and ornate Antwren. Other species are; Rusty belted Tapaculo, Semi-collared puffbird, masked, yellow-backed, green and gold, paradise tanagers, pavonine cuckoo, and military macaws.
Bamboo Forest
Birders will not miss the bird calls. The observations it's challenging due to the dense foliage that compose a typical bamboo forest.  The exquisite birds are;  Rufous Headed Woodpeckers, White Cheeked Tody-flycatcher. Following by  Peruvian Recurbill, Ornate Antwren, Manu Antbirds, and Dusky Cheecked Foliage Gleaner.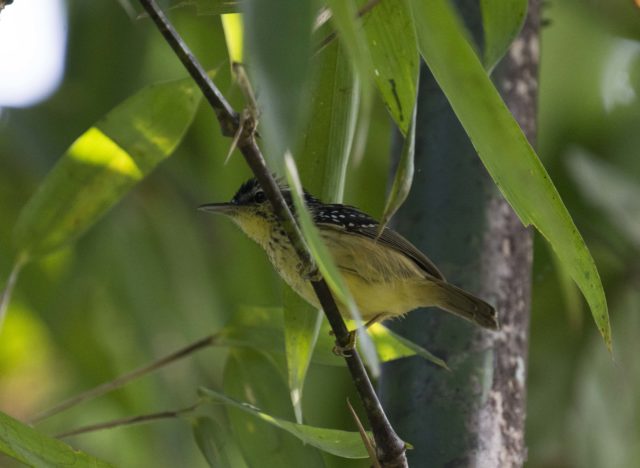 The Lagoon in Patria
Actually,  a great number of migrant and shores birds are reported in this location. Like; Whistling-Duck, Osprey, Grebe, Lapwing, and Brazilian Teal. The most common birds are; Hoatzin, Flycatchers, woodpeckers, herons, kingfishers, Amazonian Antpitta, Silvered Antbird, and little cuckoos. Nowadays, this area alone holds a record of around 194 species in EBird.
If you want to get information about our longer tours, just click below
Day 1
Cusco - Cloud Forest - Paradise Lodge
Pick from the hotel in Cusco from  5:30 AM
Drive and a brief stop at  Huacarpay Lake (30 minutes)
Drive to Huambutio bridge to look for; Torrent ducks, White-capped Dipper, review the  Ebird List 
Stop over at Paucartambo Village for some snacks 
Drive and birdwatching  at Acjanaco Pass, see the Ebird List
Birding at Tuneles and Pillahuata to look for Red and white Antpitta and other species
Birding walk along the Rocotales 
Arrival to Paradise Lodge  for Dinner and Overnight 
Day 2
Paradise Lodge- Cloud Forest - Guadalupe Lodge
Morning walk to the Cock of the Rock Lek 
Birding walk along the Road to look for Mixed Species Flock 
Breakfast at Paradise Lodge 
Birding walk along the road, Ebird List of the Location 
Lunch 
We will descend the Manu road and consider some stops along the way for some target species such as; umbrella bird, and Versicolored Barbet.
Exploration of the lagoon in Patria to see amazonian aquatic species, see the list Ebird 
Arrival to Guadalupe Lodge (Dinner & Overnight)
Day 3
Guadalupe Lodge - Bamboo & Foothill Trails-
Morning walk to see birds along the Guadalupe road and bridge, see the Ebird List 
Breakfast while observing some birds from the dining room see the Ebird List
Exploration of the Bamboo Forest 
Birding along the Foothill Forest 
Lunch at Guadalupe Lodge 
Birding walk along the road to see Crepuscular Birds and Owls 
Dinner and Overnight 
Day 4
Guadalupe Lodge - Cusco
Morning walk along the Palm forest to observe the Blue and Gold macaws 
Breakfast 
Packing and journey back to Cusco 
Stops along the Manu Cloud Forest in search of some species 
Arrival to Cusco 
Birding in the Peru Cloud Forest is a great experience for birdwatchers of all levels. With its unique climate and amazing wildlife, the Peru Cloud Forest is a must-visit destination for anyone who loves birds.
Travelicious Review
Summary
"Birding in the Cloud Forest is an amazing experience that simply cannot be missed. This unique habitat is home to a variety of rare birds"
Fixed Departure July 5th 2023